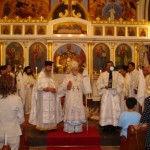 The Antiochian Orthodox Archdiocese of Mexico, Venezuela, Central America and the Caribbean — Iglesia Ortodoxa Antiquena, Arquidiócesis de México, Venezuela, Centro América y el Caribe — is quite busy in the Lord's work as a look at this new You Tube video demonstrates.
Included are a number of parishes and monasteries in Mexico, Venezuela, Honduras and Guatemala:
For those wanting to practice their Spanish, take a look at this Spanish Orthodox prayer book or listen to recordings of Orthodox liturgical services in Spanish (at this page, just click on the icon of the service: such as "Partituras de Divina Liturgia" or "Troparios de la Resurrección" and then click on the green audio buttons on the right) or read about the Orthodox faith in Spanish — all drawn from the Antiochian Archdiocese's website.
The Creed — en español:

Creo en un solo Dios, Padre Omnipotente,

Creador del cielo y de la tierra, y de todas las cosas visibles e invisibles.

Y en un sólo Señor, Jesucristo, Hijo Unigénito de Dios, que nació del Padre antes de todos los siglos; Luz de Luz; Verdadero Dios, de Dios Verdadero; engendrado, no hecho;  Consubstacial al Padre; por quien fueron hechas todas las cosas.

Quien por nosotros los hombres y para nuestra salvación, bajó de los cielos, encarnó del Espíritu Santo y María la Virgen, y se hizo hombre.

Fue crucificado, también para nosotros, bajo el poder de Poncio Pilato, padeció y fue sepultado.

Y Resucitó al tercer día según las Escrituras.

Subió a los cielos, y está sentado a la Diestra del padre.

Y vendrá segunda vez, lleno de gloria, a juzgar a los vivos y a los muertos, y su Reino no tendrá fin.

Y en el Espíritu Santo, Señor y Vivificador, que procede del Padre, y que con el Padre y el Hijo es juntamente adorado y glorificado, y que habló por los profetas.

Y en Una Iglesia Santa Católica y Apostólica.

Confieso un solo Bautismo para la remisión de los pecados.

Espero la resurrección de los muertos

Y la vida del siglo venidero.

Amén.