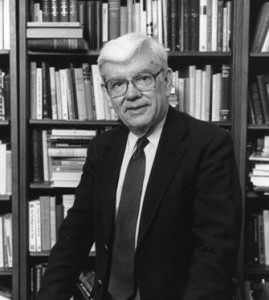 I first met Dr. Pelikan at, of all places, an All American Council. I had just come down from Alaska, and stood a lonely outpost in front of the diocese of Alaska table, waiting for some of my brethren from the 49th state to arrive. There I was, a newly ordained priest in the Orthodox Church in America, standing in a sea of cassocks, and knowing absolutely no one. As I stood there, examining the display, a voice says to me, "Hello!" I turned and saw Dr. Pelikan smiling at me. As a former Lutheran, I knew him and his writings very well. The next 20-30 minutes were alive with bright and happy conversation as we exchanged brief anecdotes about mission, Alaska, seminary, Orthodoxy, and who knows what else. That kindness so warmed my heart that the rest of the AAC was a joy. He took me from feeling exceptionally alone, to exceptionally 'included.' Memory eternal, Dr. Pelikan. – Fr. John A. Peck
Most stunning perhaps was, in 1996, the conversion of Jaroslav Pelikan, Yale University's celebrated church historian and Luther scholar. Here is a man who has co-edited 22 of the 55 volumes of Luther's Works in English, and then late in life he "moved East," as some theologians like to say.
"I was the Lutheran with the greatest knowledge of the Orthodox Church," Pelikan reportedly quipped, "and now I am the Orthodox with the greatest knowledge of Luther."
He is has also been quoted as saying,
"When the Lutheran Church-Missouri Synod became Baptist, and the Evangelical Lutheran Church in America became Methodist, I became Orthodox."
Presumably, his implication was that the former two denominations were on the verge of losing their doctrinal clarity.
But he does not talk to the media about this move that exemplifies a trend of sorts among some Protestants and Roman Catholics.
"I have received hundreds of requests for interviews and decided not to respond to any of them," he told UPI Tuesday.
Some former associates say that he simply does not wish to hurt his former Lutheran coreligionists. But a ranking OCA cleric gave a clue:
"Pelikan said he joined us after he had read a work on the Cappadocian Fathers for a fifth time in the original Greek."