by Kyriaki-Fevronia Ka'akau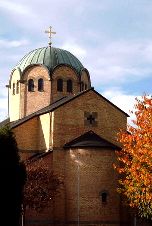 If someone told me four years ago that I would become Orthodox I would have suggested psychological testing! Before moving to Washington in 1996, I was a Protestant for 26 years, hopping from one church to another. There was always something missing but I couldn't identify it. My marriage of 16 years failed so I decided to "take a break" from anything church related, move to Washington with my son and start over.
After being there for nearly a year, I quit one security job and was hired for another company. My new boss, Pete, was a big bear of a man with a wonderful sense of humor and the ability to speak the language of his ancestry which I had always wanted to learn—Greek!
To a background in Hawaiian, Hebrew, Latin, French, and American Sign Language I wanted to add Greek, especially since the New Testament was written in it. When Pete suggested I call one of the Greek Orthodox churches in Tacoma I had no idea what to look for. I "let my fingers do the walking" and arbitrarily chose St. Nicholas.
I know that the Holy Spirit led me to choose that parish. I inquired about Greek lessons and the woman took my name and phone number. A few days later Despina Kipelidis called me. That was the beginning of my adventure!
During my Greek lessons, we would talk about spiritual things and she would answer my questions about Orthodoxy with as much zeal as I had as Protestant. She loaned me books like St. Seraphim of Sarov, Mother Macarius, etc. Being the "good Christian" that I was, I checked everything against scripture. I wanted to make sure I wasn't getting into something strange or something that went contrary to what I knew scripture taught.
I could find nothing wrong but it took a while to get used to certain theological issues such as the rightful position of the Holy Mother, and the transformation of the break and wine into the Body and Blood of our Lord, God, and Savior Jesus Christ. Once I started attending services— first at St. Nicholas and then at Holy Resurrection (OCA)—1 began finding what had been missing in all the other churches I attended—WORSHIP and REVERENCE.
I was relieved in what I found in Orthodoxy. There was no "show" or a need to "entertain" to attract new believers. I found meaning in everything that was done in the Liturgy and at home. It was comforting. I had come home.
The traditions in Orthodoxy are passed down from the Apostles themselves and there is the desire for more spiritual discipline. There is a right way and a wrong way to worship, dress, pray, fast, etc.
And I found people who wanted to do it right. I had been covering my head for 19 years and for the first time I wasn't the only (outside a messianic congregation)! There is consistency. There is a cycle. But make no mistake about one thing; there is just as much, if not more, emotion. These traditions are in no way dead or boring! I discovered in Orthodoxy that which so many other Christians have forgotten. After several months of being a Catechumen I was baptized. My Godmother is Fevronia Prodomidou from Kavala, Greece.
I chose the name Kyriaki, after my Greek teacher's aunt so I actually have TWO names; Kyriaki-Fevronia.
I have been Orthodox for a little over a year now and thought it would be wonderful if my family, especially my son, became Orthodox, it's God's job to enlighten them the same way He enlightened me. I'm just in awe of the way He blessed me and helped me find my way home!