The Conversion of Fr. Wilbur Ellsworth
By Jason Zengerle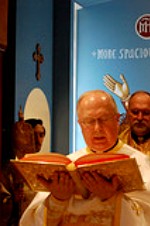 The ministry is a calling, but it is also a career, and, in 1987, a Baptist minister named Wilbur Ellsworth was given the career opportunity of a lifetime.
After nearly two decades of pastoring modest congregations in California and Ohio, Ellsworth, at the age of 43, was called to lead the First Baptist Church of Wheaton, Illinois–one of the most prominent evangelical churches in what was then the most prominent evangelical city in the world.
Often called the "Evangelical Vatican," the leafy Chicago suburb is home to Wheaton College–the prestigious evangelical college whose most famous graduate is Billy Graham–and a host of influential evangelical figures, a number of whom worshipped at First Baptist.
"I was now preaching to these people every Sunday," Ellsworth recalls. "It was all sort of heady and exciting."
From a professional standpoint, Ellsworth thrived.
He oversaw the construction of a majestic new building for First Baptist with a 600-seat sanctuary and a 100-foot steeple that towered over Wheaton's Main Street. And, due to the prominent evangelicals he now ministered to, he became something of a prominent evangelical himself–routinely meeting with the many evangelical leaders who constantly came through Wheaton.
"I was at the very center of the religious world that I'd been a part of for most of my life," he says. "It was quite a promotion from where I was before."
From a spiritual perspective, however, Ellsworth was suffering. Over the past 20 years, a growing number of evangelical churches have joined what is called the "church growth movement," which favors a more contemporary, market-driven style of worship–with rock 'n' roll "praise songs" supplanting traditional hymns and dramatic sketches replacing preachy sermons–in the hope of attracting new members and turning churches into megachurches. First Baptist of Wheaton was not immune to this trend: Ellsworth increasingly found himself fighting with congregants about the way worship was being done.
"They wanted to replace our organ with a drum set and do similar things that boiled down not to doctrine, but to personal preference," he explains. "I said, That's not going to happen as long as I'm here.'"
It didn't. In 2000, after 13 years as the pastor of First Baptist, Ellsworth was forced out.
For Ellsworth, his departure from First Baptist triggered both a professional and a spiritual crisis. But, before he could deal with the former, he felt he had to address the latter. He devoted himself to reading theology and church history. At first, he seemed headed in the direction of the Calvinist-influenced Reformed Baptist Church or the Anglican Church, which are where evangelicals in search of a more classical Christian style of worship often end up. But, as Ellsworth continued in his own personal search, his readings and discussions began taking him further and further past the Reformation and ever deeper into church history. And, gradually, much to his surprise, he found himself growing increasingly interested in a church he once knew virtually nothing about: the Orthodox Church.
"I really thought he'd go to Canterbury,"
says Alan Jacobs, a Wheaton College English professor and Anglican who is friendly with Ellsworth.
"But he took a sudden right turn and wound up in Constantinople."
Ellsworth began reading more and more about Orthodox Christianity–eventually spending close to $10,000 on Orthodox books. By 2005, he was regularly visiting an Antiochian Orthodox Church in Chicago (the Antiochian Orthodox Church is Middle Eastern in background and the seat of its patriarchate is in Damascus). By late 2006, Ellsworth realized that he wanted to be Orthodox himself. On the first Sunday of the following February, an Orthodox priest in Chicago anointed him with holy oil and he was chrismated–or formally received–into the Orthodox Church. A month later, at the age of 62, he was ordained as an Orthodox priest himself.
Ellsworth's story is hardly unique. Most of the approximately 150 members of the Orthodox parish he now leads are former evangelicals themselves. Even Ellsworth's transition from evangelical minister to Orthodox priest is not uncommon. Of the more than 250 parishes of the Antiochian Orthodox Christian Archdiocese of North America, some 60 percent are led by convert priests, most of whom are from evangelical backgrounds. And, according to Bradley Nassif, a professor at North Park University and the leading academic expert on Evangelical- Orthodox dialogue, the Antiochian Archdiocese has seen over 150 percent church growth in the last 20 years, approximately 75 percent of which is attributable to converts.
While it's unlikely that the Orthodox Church–which, according to the best estimate, has only 1.2 million American members–will ever pose any sort of existential threat to evangelical Christianity in the United States, it is significant nonetheless that a growing number of Southern Baptists and Presbyterians and Assemblies of God members have left the evangelical fold, turning to a religion that is not only not American, but not even Western. Their flight signals a growing dissatisfaction among some evangelicals with the state of their churches and their complicated relationship with the modern world.
One evening in June, I went to see Wilbur Ellsworth at his new professional and spiritual home–the Holy Transfiguration Antiochian Orthodox Church in Warrenville, Illinois. Although it is one town over from Wheaton and just a few miles from First Baptist, Holy Transfiguration is located a great psychic distance from the "Evangelical Vatican." The church itself is tucked away in a shabby residential neighborhood, set among working-class bungalows and across the street from a Veteran of Foreign Wars (VFW) post, and it is housed in a modest one-story building with peeling white paint. It was a Saturday evening when I first visited, and Ellsworth–or, as he's now called, Father Wilbur–was at the church to lead a vespers service. He was robed in gold-trimmed vestments, but with his open, clean-shaven face, he bore little resemblance to the stern–to say nothing of hirsute– Orthodox priests of popular imagination.
Greeting me outside Holy Transfiguration, Ellsworth was gracious, but also a bit anxious. As 30 or so worshipers filed into the church, he cast occasional glances across the street, where a few presumably unchurched people were making a ruckus on the VFW baseball field as they drank beer and shagged fly balls. Standing in the diminishing evening light, he apologized for what he said was an unusually small turnout, which he attributed to the pleasant weather.
"If they don't come," he said, "I'll remind them who made it so nice."
He also apologized for the church's appearance, telling me that in a few weeks its exterior would be repainted. As we prepared to head inside, he introduced me to his wife, Jean, who, he explained, would sit with me through the service in case I had any questions. It was the first time in all of my journalistic visits to churches– including the time I went to an all-night service at a charismatic church of African immigrants who spoke in tongues–that a minister felt compelled to provide me with a chaperone. More than anything, Ellsworth seemed worried that I'd find his church weird.
This is an understandable fear. For a long time, the Orthodox Church simply wasn't on the radar of most Americans–never mind evangelicals. Although Orthodox Christianity has been in North America since 1794, when Russian Orthodox missionaries crossed the Bering Strait to convert Aleuts in Alaska, Orthodox churches in the United States were almost entirely immigrant or ethnic–especially after the Russian Revolution, which spelled an end to the Russian Orthodox Church's attempts to do missionary work with Americans.
"The whole history of Orthodoxy in North America from 1918 until relatively recently is a terrible story," says A. Gregg Roeber, a Penn State professor of early modern history and religious studies.
But that story took a dramatic turn 20 years ago, when a group of about 2,000 evangelicals converted en masse into the Antiochian Orthodox Church. The conversion had been nearly two decades in the making. In 1968, a Campus Crusade for Christ executive named Peter Gillquist became disenchanted with the group's parachurch identity, but he could not find an existing evangelical church that met his spiritual needs. Gillquist joined with about half a dozen other similarly disenchanted Campus Crusade for Christ staffers and embarked on what they called, somewhat cheekily, "the phantom search for the perfect church."
As Gillquist recounts in his memoir, Becoming Orthodox,
"Our basic question was, whatever happened to that Church we read about in the pages of the New Testament? Was it still around? If so, where? We wanted to be a part of it."
Much like Wilbur Ellsworth would do years later, Gillquist and his fellow sojourners worked their way back through church history and doctrine before they finally came to 1054 and the East-West Schism and, thus, a fork in the road. One path took them to Rome and the West; the other to Constantinople and the East. Gillquist and the others thought the East was right to resist papal excesses; they also thought the East was right to insist on equality among the Holy Trinity, rather than relegating the Holy Spirit to a lesser place than God the Father and God the Son.
They concluded, almost reluctantly, that they were Orthodox.
Unlike Ellsworth, though, Gillquist and his group had no clearly laid-out path to becoming Orthodox. For nearly ten years, as they formed their own organization called the Evangelical Orthodox Church and gained their own followers, they tried–and failed–to join the Orthodox Church. In 1985, about 20 of them traveled all the way to Istanbul to seek the acceptance of the Ecumenical Patriarch of the Greek Orthodox Church, only to be turned away moments before their scheduled meeting. Greek Orthodox officials were evidently worried that Gillquist and his group weren't sufficiently committed to promoting Hellenistic culture.
Finally, Metropolitan Philip Saliba, the archbishop of the Antiochian Orthodox Christian Archdiocese of North America, came to their rescue. Born and raised in Lebanon, Metropolitan Philip came to the United States in the 1950s and studied history at Wayne State University in Michigan. He stayed and became an Orthodox priest, initially leading a congregation of mostly Lebanese and Syrian immigrants in Cleveland. But he had a vision of growing the Orthodox Church in the United States. Importantly, his vision wasn't constrained by any sort of nationalist or ethnic pride; while the other two large Orthodox jurisdictions in the United States–the Russian and Greek Orthodox Churches–conducted their liturgies in Slavonic or Greek, the Lebanese, Syrian, and other Arab immigrants who attended Antiochian Orthodox Churches were more assimilationist and often conducted their liturgies in English.
When Metropolitan Philip learned of Gillquist and his group, he seized on the opportunity. In 1987, he converted most of the clergy and the members of the Evangelical Orthodox Church into the Antiochian Orthodox Church.
Since that conversion, the number of Antiochian Orthodox Church parishes in the United States has more than doubled, largely through the efforts of Gillquist, who serves as the Director of the Department of Missions and Evangelism for the Antiochian Orthodox Christian Archdiocese. Although Gillquist is now 69 and a cancer survivor, he continues to travel around the United States, evangelizing on behalf of the Orthodox Church with a particular eye toward converting evangelicals.
"Right now, the flood of evangelicals [interested in Orthodoxy] is just overwhelming," he says.