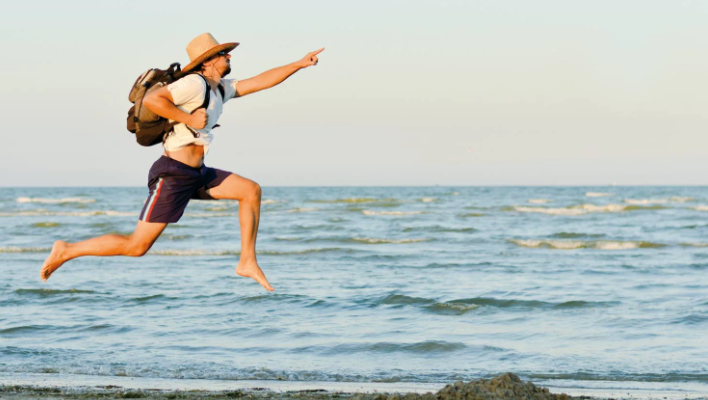 By Nickolas Barbin
Childhood
My journey is long, starting as a Roman Catholic, next becoming Southern Baptist, then a (non-denominational) Pentecostal, then Charismatic Evangelical, then Eastern Orthodox. Originally, I was raised, and baptized Roman Catholic in Louisiana. My parents divorced when I was a year or two old and my father immediately remarried. My father was Catholic and my mother was Southern Baptist, each going back hundreds of years. My mother would mostly take me to her Baptist church as my father wasn't really into church. Additionally, my mother, as most Protestants, thinking that Catholics are idolaters and not christian. Nevertheless, I still attended catechism and did my first communion, but some Sundays went to baptist church and Sunday school. Later, my mother re-married an Air Force Officer and they got transferred to Las Vegas, NV. I spent my summers visiting them as a child and attending their Baptist church.
During junior high (early 90's), I moved with my mother and step-father and of course became Southern Baptist by default, and we moved to many places around the world. I moved every year of my childhood. I attended our church's Baptist High School while we lived in Germany. It was during this time period that I began to have a deep hunger for God and the things of God. I began to discern a call to ministry and spent many hours daily praying, studying the bible, and attending church weekly. Additionally, I was extremely active in the youth group and church activities, and as well as the Christian high school I attended. We later moved back to Las Vegas towards the middle of my junior year and I graduated from a Christian high school in Las Vegas. But this school, being a Pentecostal style church school, was different. I was still very active with the youth group and with ministry at school. My favorite class was bible class and my other favorite activity was the worship service we had weekly(or daily). It was very charismatic and very different from our baptist church! Though, I wasn't sure whether I was wanted to be a pastor, or whether a missionary, but I had always loved and leaned more towards missionary work and it was also my dream since I was around 12 or 13 to be a missionary in Africa.
So now, the problem was, I had so much confusion about which denomination was correct, or where I was called to, or where I would even attend Seminary/Bible College. So, I prayed for many hours daily about it throughout my Senior year. After much time, I just felt led to join the military. I had always loved and admired the military and was another dream of mine anyway. So, I figured I'll do ministry within the military and use that as my mission field and spring board into "full-time" or civilian ministry.
Military Ministry
So, I enlisted as an Infantryman in the Army in early 1998, and used the military as my mission field as I grew closer to God and stronger in faith. I was immediately sent to Germany as my first duty station, and I joined a non-denominational (Pentecostal Style) church that was just being planted by a missionary pastor there who I lived with. This Pentecostal Church operated worldwide at almost every military base in the world at the time what they called a "Servicemen's Home". It was their answer to providing a home away from home in a godly Christian environment. The reason I lived with there was twofold. Firstly, was the barracks life was very ungodly and disturbing. I had also been attacked and beaten physically for my faith one night in the barracks. Secondly, I wanted a peaceful Christian atmosphere and a place to grow spiritually and to prepare me for ministry. I figured what better place than to live with this pastor where he could mold, mentor, and help me daily to become a pastor myself. It was also more of a Christian or minister's "boot camp". It was extremely strict and disciplined sort of like a monastery life. The home became more of a monastery life for me, as everything was centered around much deep prayer. We spent many hours both daily and nightly in deep prayers, praying in tongues at all hours. We had service every single night except one or two nights was bible study, plus hours every night witnessing on the streets , plus several hours in prayer! Every moment was dedicated to ministry or spiritual practices. After about 10/11pm or so and maybe a few minutes right before dinner was your " free time". Also we got a few hours sometimes on Saturday or Sunday between the morning and evening services. I also was a street evangelist, a deacon, and a drummer in the church. I was there 24/7 except during the duty day while I worked on base. Then after a year and a half, I got transferred to upstate New York (2000) and joined the same church I was with in Germany.
Upstate New York
Again, I stayed with the "home" there and did all the same things I did at the previous church. I began to preach and help the pastor more and more at this new church and we also grew from having church within his converted garage to a huge church building. After about a year or so there, the Sept 11 (2001) attacks took place. Being that I was part of the elite 10th Mountain Division at the time, we were immediately sent overseas. So, we left and we were the first boots on the ground in the War on Terror, during "?Operation Anaconda", as a Light Infantryman, and worked alongside the Special Forces there.
After this tour of combat, I came back home (2002) and a lot changed for me. I came back home different and discouraged and began to drift away from God and started backsliding and getting in with the wrong crowd. Also, because of some issues with my church, and many reasons, I left. It was very short lived though and after a few months of living a backslidden party life and because of having a deep calling in my life, I soon re-adjusted back to my normal self. I joined another Pentecostal Non-denominational church and I quickly got back on fire for God and joined all the auxiliaries and groups at this church, and was busier than ever! I was the pastors aide, a deacon, a drummer, joined the choir, and vice president of the men's ministry. Sometimes I even preached or taught a bible studies. I got transferred again after about another year (2003) and went to Virginia. Ironically, I was being sent to the same town as our head bishop! So, I attended there and quickly got busy again. I helped out in every way I could and was very faithful in anything and everything they asked of me. The bishop took notice of me and also of a calling on my life. So, we began having many talks, meetings, and prayer, and took some tests in order to become a minister. So, we set a date where I took written and verbal tests and went before a church board. I later did a trial sermon they called it, to test my preaching abilities, and quickly saw that I was more than qualified to become a preacher! I then got licensed with this church, but then immediately received orders to transfer to Korea! On the move again!
Korea
In early 2004, I was sent to South Korea and was soon installed as a minister on the ministerial staff at the Base Chapel there. Shortly after, I became the Asst. Pastor of the Gospel Service there, and preaching weekly. I also began helping out at a church off base and was their Youth Pastor/Sunday School teacher and preacher with a Korean Baptist Church off base. I had to work through an interpreter and God really blessed there in great ways in both churches. The little service we had on base there began to grow quickly and many were joining and committing their lives to God on that installation. I had also transferred out of the infantry a year or so before, and I was now working as a helicopter maintenance supervisor and made sergeant. Towards the end of my tour there, the head pastor had to leave all of a sudden and they made me the head pastor, in which I took the helm of the church for my final months there. My last Sunday there the head pastor had returned and gave me a big going away ceremony with many gifts and had me fully ordained! I thoroughly enjoyed my tour there, the Koreans are very prayerful devout Protestants and Pentecostals who really love God and have a lot of faith!!
Upstate NY
Upon returning to the U.S., in early 2005, I was sent back to Fort Drum, NY and helped a pastor friend of mine with their church. He made me his Asst. Pastor/Elder. After another year there, I deployed back to Afghanistan again. This time I was now a helicopter flight crewman and maintenance supervisor, for another overseas tour. I quickly joined the ministerial staff there at the base chapel and was back to helping out in ministry there. As divine providence would have it again, I was chosen to be the congregations Asst. Pastor of the Gospel Service there, though I was by far the youngest and lowest ranking person on the entire ministerial staff! (For those that don't know, the Military Base Chapels are divided up in three main Christian services – Protestant, Catholic and Gospel. The Gospel service is a Pentecostal, African-American style, worship service. I guess because everyone saw God's calling on my life and how I was very devout, dedicated, and close to God, and a powerful preacher! I always preached with the old time Pentecostal-holiness style. It was also an International NATO base, so we had troops from all different nations world-wide, and from every continent! We had a glorious time there in fellowship, worship, and in ministry. The services quickly multiplied into several hundred coming weekly, we had praise dance teams, amazing choirs, musicians, and amazing preaching. I instituted many prayer meetings, taught weekly bible studies, was in the choir, and also a drummer when needed. Many people were led to Christ and even the Chaplains began to wonder what was going on! Soon people stopped going much to their services and they were all coming to the Gospel Service where I pastored! So, even the Chaplain's started occasionally attending with us too! The head Chaplain gave me the keys to his office, and I had full access to the Chapel and his office anytime I wanted.
Full Time Ministry
Upon returning back home, in late Feb 2007, it seemed the door had opened finally for me. After much prayer and discernment, I made the decision to get out of the military to pursue my passion of full-time ministry. I had finally obtained and finished a degree in ministry while in the military and my head bishop heard all about how God used me greatly overseas. So, he offered me a position as a head bishop working with him in Ohio. He also presented me with an "Honorary" Doctorate degree with his bible college. It was my lifelong dream to enter full-time ministry and here I was entering the bishopric in my late twenties! (bishop, in the Pentecostal sense, is completely different, obviously we don't wear vestments, or perform any liturgies or sacraments, it is strictly a title meaning "head overseer", "head pastor" or "president"). So, I went back home to Fort Drum to announce this to my congregation and to also out-process the military. It took several months to complete and I was enroute to Ohio by early 2007 to start the new chapter in my life. My only concerns were, my true dream and goal was to be a missionary, not a bishop or in a leadership position. This bishop knew of my passion for that, and we discussed it many times in length. But due to his age, wanting to retire and also needing me, after much prayer, I decided to go. It seemed to be where God was leading at that time. Soon after arriving there, I quickly saw I made a mistake and nothing was as it was advertised to be. So, it was a rough time working with him, but I did travel doing a crusade in Nigeria and traveled stateside doing seminars for a while, and also helping out the ministry there. I also enjoyed my time in Africa. It's an amazing place and such God fearing, loving people, full of faith beyond that of Americans! I always feel so at home there. The bishop placed me as his Asst Bishop/Overseer, also the Bishop of Crusades and Pastoral Care. This bishop had pressured me and another new female bishop, whom he had just ordained as well in Las Vegas, to get married. Then soon the church broke apart after a few months, and it all ended badly. I was now broke, homeless and had nothing, no job or nowhere to go.
Las Vegas
I decided to start fresh and head out to Las Vegas in January 2008. So after working part time and saving just enough to get out there, I left to go there on a new mission. Las Vegas was my teenage home and I wanted to go back and try to start a church there, and it was also the home of my new wife. So, I headed back and got a job and started back doing ministry there. Since she already had a ministry there, we combined our works and ministries into one international church/ministry. We mostly did ministry to the youth and less privileged in town, we also had bible studies, a radio ministry, a healing and deliverance ministry, and street preaching ministry and youth group. My wife also had prophetic/seer gifts too. Her gifts were amazing and scary! She told me everything about my most private self and childhood background and my deepest thoughts when we first meet. She daily also told of future events and could read/discern others true hearts or spirits, including me! She could see things happening (past, present or future events) play by play exactly as they happened. And Yes, all of which was confirmed each time by myself and others to be exactly as it happened or later happened! We were the head pastors and founders and ran this ministry for several years in Las Vegas. We also had an internet ministry and was planning future overseas missions and evangelization. But we struggled financially and had been struggling for a long time. We didn't believe in asking for money, and just worked by faith and God seemed to always provide, but we wanted and needed so much more. After a few years, and for many reasons, I decided to re-enlist into the military (Air Force this time) to help out with expenses, and I figured I just needed to complete another ten years and I could have my retirement. So, I joined the Air Force Reserve this time. I did that part time for a year and soon was offered a full-time position (2010) which I gladly took. The pay and benefits was much better and it was a much better job than my security officer job I had in town. It was a demanding, time consuming job, but I worked hard put in long hours and studied hard daily. We also got transferred to Texas for a short while and came back.
We were so busy with ministry and life itself, and our marriage was on the rocks for a long time as well and it began to take a toll along with many other stressors we had. Due to my job, long hours, and stress, and also balancing ministry, plus obtaining another degree, we reduced the ministry down to very minimum amount. After a few more years, I got orders to Florida. So, we had to pack up everything…on the road again!
Florida
We moved in July 2014, and it was both a blessing and a curse. It was such a beautiful beach town, and on the emerald coast, but things got much worse for us and our marriage. We had planned to expand and start another branch of our church there. But nothing ever seemed to go right anymore, and due to our busy schedules and other issues, we ending up shutting everything down. Though we still kept the radio ministry and internet ministry but still had plans to start a new church in Florida. But things got so bad with us and also my job required more and more of my time and stress, we could never get it started. It pretty much felt like everything in my life was falling apart and everything taken from me. Long story short, we went through a long horrible divorce, I ended up leaving the military, and pretty much lost everything.
Journey Home
But it was during this time that I also found the greatest jewel of my life! I had always wanted more of God and had always looked for his authentic church. I had always wondered why there was so many denominations and why did each church and their doctrines and teachings differ so greatly. I just wanted to be part of a universal body like it should be. I just wanted to be closer to God and to find his true church all of my life. I was frustrated, upset and unsatisfied with "?church?" and the status quo and even blamed religion over the years for the way these modern churches were becoming. I knew that something wasn't right and that also that there had to be more out there, something deeper and ancient and with fullness. I began to pray and fast and cry out to God even more. I had done this my whole life, but now I needed to find this at all costs. I prayed, and fasted for weeks and months at a time, sometimes eating absolutely nothing during those periods! During my ministry time in Las Vegas and Florida I did a lot of fasting. I did a couple of 21 day fasts and two 40 day fasts where I did not eat one bite of food! I only had water and locked myself in my room praying and reading scripture from the time I got off work until I went to bed and then all day on the weekends! This is how much I wanted to be closer to God and to remove self! I must say it was very powerful and supernatural! I knew of the scripture which spoke of Jesus telling Peter that upon this rock he would build my church and the gates of hell would not prevail against it.
"And I also say to you, that you are Peter, and on this rock, I will build my church, and the gates of Hades shall not prevail against it." (Matt. 16:18).
This scripture always rang in my head, and I knew Jesus didn't lie, but why was there so much confusion, dissension, schisms, cults, and endless nonsense within modern Christianity? Why were there so many different gospels and heresies? I had so many questions and I kept asking God and praying to him to lead me to the ancient church of the early apostles.
I knew it had to exist somewhere on earth! I wanted so bad to find it, I started thinking of taking a pilgrimage to Greece to try to find these original churches that the Apostle Paul founded there that we read about in his epistles, so I can see if they were still there and find out what were they teaching and believing. So ironically, someone invited me to a Greek Festival a few months later, and I discovered the Greek Orthodox Church (Aug 2015). I had never heard of this church before, and it was just down the street from my house, and I didn't have to go to Greece! I couldn't believe there was such a church that existed! So, I began visiting and studying with them and read from the early church fathers. The Liturgy seemed so divine and beautiful, and everything was wonderful. From the moment I walked in, my spirit felt as if I was finally home and had found what I was looking for! It seemed too good to be true, and I still wanted to be 100% sure and took my time researching everything I could get my hands on about this church first. I learned about the great schism, and also began attending more and joined their catechism, attending faithfully, going through catechism, reading many books, watching hundreds of you tubes, reading online articles and websites, talking to priests, orthodox members, my orthodox sponsor, and even visiting a monastery. I truly felt that this was the Original Early Church. But being the responsible and the investigative type, I had to be extra sure by comparing it as well with Roman Catholicism. I also eventually visited and read many books from them, took their catechism, and watched many of their programs, and talking with their priests as well. It was sometimes tough and confusing as they have excellent apologists and programs and have great answers to everything. They would give their perspective on Orthodoxy (which is usually incorrect and skewed). But after several additional months of additional prayers, study, and discernment, I realized that Orthodoxy was the Original True Church. I had been to so many churches and denominations in my life and didn't want to continue to change faiths. After a long period of this, I came home to Holy Orthodoxy!
Soon after this, my govt job transferred me back to Las Vegas (2017) where I attended a wonderful parish with an amazing priest there as well. After a few years, I re-enlisted again to hopefully finish my last few years of military service and am now stationed in California (Bay Area)! This area is a wonderful orthodox heaven with tons of Orthodox history and monasteries, it's been sort of a pilgrimage for me here! It is wonderful to be finally home after a long journey and many trials.
This is only but a very brief basic synopsis ( Readers Digest Version) of my life story and testimony. I don't have nearly the time and space to share so much more that I wish I could!
Christ is Risen!
Nickolas