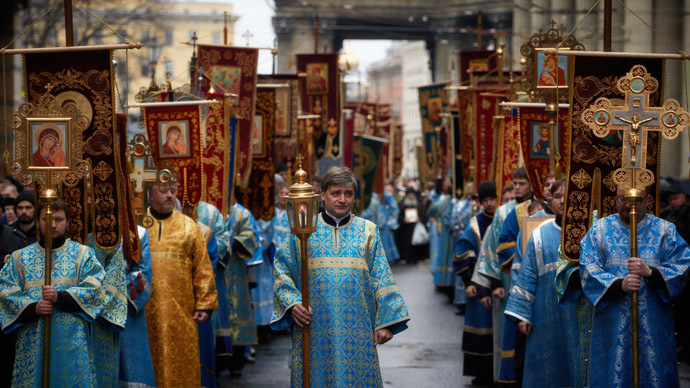 by Ryan Hunter
Why Orthdoxy?
After years of spiritual wandering and disillusionment, and studying all religions,  I am entering the Orthodox Church:  How I discovered new meaning in the word "catholic" and the true challenge of a Christian life
"In His unbounded love, God became what we are that He might make us what He is." —St. Irenaeus (d. 202)
I am in love. The object of my affection, or rather, my devotion, is not a person per se, though it is very much alive. It has been alive for 2,000 years, persisting through seemingly insurmountable odds, and in that time it spread from the eastern shores of the Mediterranean north and east, ultimately to the shores of Alaska and the New World. Now it is very much established and thriving here in the US. What is this thing that has become such a defining part of my life?
I have fallen in love with the Orthodox Church.
It is difficult for me to render into words an account of the transformation that this awakening has wrought in all areas of my life. I feel myself to be at last truly satisfied, spiritually and emotionally. I feel enriched beyond description after years of an ever-present void. From the depths of my heart I sense that I am now a more fulfilled Christian, and above all I know that I am a more inspired human being. Sadly in this increasingly secular society, many people my age do not want or desire such inspiration.
For the rare college student who craves a deeper inspiration that goes beyond a routine weekly church hour, for anyone who wants to enter into a new level of spiritual life, I urge him or her to consider Orthodoxy. It has awakened in me a kind of spiritual consciousness that I never imagined I would experience, a kind of spiritual inspiration that very few of my non-Orthodox friends have today.
For this awakening, I am, and will always be, forever grateful.
Introduction:
"Remember constantly that the light of your soul, of your thoughts, and of your heart comes from Jesus Christ." –St. John of Kronstadt (1829-1908).
Before I begin, I wish to thank two dear friends who have had the biggest impact on introducing me to Orthodoxy, Rebecca Dixon and Gillian Davies. They exemplify all that is best about the faith first and foremost in their incredible kindness and warmth. They are two of the most intelligent, cultured, and open-minded individuals I have ever met. Typical of most Orthodox who encounter a would-be-convert, they would probably tell you that they had little to do with my spiritual journey, saying such a thing is something that can only begin and evolve in the individual's heart and soul.
But they did more than simply start me off on my journey. After I met them when I started attending weekly 5pm Orthodox vespers at Kay Spiritual Center at American University during the fall 2010 semester, they provided me with so much counsel and encouragement. They were welcome and informative company to the Sunday liturgies I insisted on attending as often as I could. They answered the many questions I had, and introduced me to two beautiful churches. Most of all, they shared with me their own unique personal experiences with Orthodoxy.
Because Gillian, a Greek-British American, preferred to attend Sunday liturgy at St. Sophia (Holy Wisdom), the Greek Orthodox cathedral a mile down Massachusetts Avenue from American University, I was able to experience worship in that church whose beauty is truly breathtaking. Gillian has graduated, so besides one very kind, thoughtful priest there, Fr. Dimitri Lee, who sang the weekly vespers at American, I know no one at that Cathedral. While I decided not to become a member of the St Sophia parish, I will be glad in the future to be a communicant on the occasions when I decide to visit that beautiful church.
I think Gillian understands. She proved invaluable in helping me improve on my Greek-reading, though I think I will continue to pronounce the letter 'tau' incorrectly in many instances! In our walks to and from church during Great Lent on Mondays when we trekked over to hear Fr. Dimitri sing the office of Great Compline, she shared her thoughts on the Faith, the Church, and some of her own personal views on its teachings and St. Sophia's own traditions, as a parishioner and someone who was "cradle" Orthodox. I realized that by entering the Church, I would not be required to subscribe to some sort of ideological litmus test, but be encouraged, in every liturgy, and indeed, in every moment of my life, to believe in the Orthodox way, and put its teachings into practice. Thanks to Gillian I have come to appreciate how the Church stands for certain things, and does take specific positions on contemporary issues, but it does not focus so much on projecting an absolute image of itself to an ever-changing world as much as it emphasizes staying true to its rich Tradition.
As soon as I met Rebecca I saw that she has a love for life and an infectious spontaneity, twin attributes inestimable in any friend. Although she was only in DC during the fall 2010 semester, we've kept in touch, especially on Facebook where I love to share my latest stories and updates about my spiritual life at St. Nicholas Cathedral, the church she introduced me to in November. She loves to converse on all manner of things, from travelling abroad (she recently was in India spending her summer in New Delhi and Kashmir) to Canadian politics (she worked in the Library of Parliament in her native Ottawa) to different cuisine and languages.
I will always remember our many treks to St. Nicholas Cathedral for the Sunday Divine Liturgy, both for the amazingly lively conversations we had at 8:30 on mornings when most students slept in, and for the frequent snow and rain that often made it necessary to run to church! When she visited DC during Holy Week in April, perfect timing to have my old Orthodox buddy back in town, we had to sprint through pouring rain to get to the morning liturgy on Holy Wednesday, and I was in a suit! (Neither of us had umbrellas.) I remember that liturgy especially because upon entering St. Nicholas, Rebecca, who sang in her church's choir back in Canada, immediately walked over to where the choir members stood, and proceeded to join them and the Metropolitan in their singing!
She is a member of the Orthodox Church in America, an autocephalous (fully self-governing) body of several hundred thousand Orthodox in the US, Canada, and several communities in Central America. In addition to its Russian roots, the Church has a large and steadily growing number of members entering from mostly mainline Protestant groups, but there have also been considerable numbers of Catholic converts, as well as some evangelical Christians who have all come to Orthodoxy in recent years through the OCA.
His Beatitude Metropolitan Jonah, primate of the Church from 2008, has said in interviews that
"our churches embrace a very broad diversity of peoples across the continent."
This is true, and one of the aspects of the OCA I find so attractive, along with its rich history. The Church in America is as old as the nation itself, historically founded in 1794 by Saint Herman of Alaska, a Russian Orthodox monk who peacefully inspired the conversion of the Aleut population on Kodiak Island, learning the local native languages, and proceeded to minister to dozens of indigenous tribes.
Rebecca's family exemplifies the incredibly embracing diversity of the OCA; her mother's family is religiously Jewish, and her mother made the difficult decision to enter the Church after she was born. Rebecca explained how her mother did not want to lose any of the cultural heritage with which she had grown up. After much thought and prayer her mother came to realize that embracing Orthodoxy did not mean she had to give up her family or her Jewish cultural roots. According to Jewish custom, which passes on the faith tradition through matrilineal descent, Rebecca and her mother, in addition to being Orthodox Christians, are also, and will always be, Jewish. As someone who has Jewish roots on my mother's side of the family, I always thought it was beautiful that Rebecca could be both Jewish by heritage, and a Christian in her religion.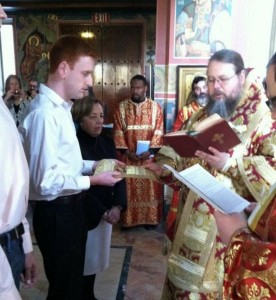 In addition to Rebecca's wonderful sense of humor, and what I would describe as the enormously helpful 'education' that she gave me on really "all things Orthodox", she also enlightened me early on in my studies of Orthodoxy, as I became increasingly interested in converting, that the OCA was no stranger to controversy. The Church has been going through controversy in many ways as painful as that which has been engulfing the Roman Catholic Church in recent years (albeit of a different cause.) I'm so grateful that she had the strength and forthrightness to share this with me.
More than anything else, I am grateful to Rebecca for introducing me to Saint Nicholas Cathedral, two blocks down Massachusetts Avenue from St. Sophia. This church is the primatial cathedral of the Orthodox Church in America, and it has been my spiritual home ever since that November day when she first took me with her to experience the Divine Liturgy there.
Into this beautiful church (in which I feel I have been adopted) I have come as a cautious but hopeful catechumen.
The rest of the story will be published in a book by Pokrov Press shortly.
We will include a link to the book when it is published!