by Alf Siewers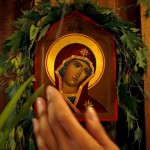 I was many years in coming to the Orthodox Church.  In spite of my many sins and willfulness to the contrary, God kept nudging and guiding me.  Although my family was blessed with a strong Christian heritage, I was raised in an intellectual atmosphere that was essentially hostile toward Christianity, and any Orthodox background was centuries removed. 
My mother was of New England Puritan background with deep family roots in Chicago (her grandfather actually was at the convention there that nominated Abraham Lincoln).  My dad's family was a mix of Irish Catholic and Norwegian Lutheran background (a step-uncle of mine is chancellor of a Roman Catholic diocese in the South, a cousin of my dad's was a Roman Catholic bishop in the Midwest).  Like many Norwegians, my dad's family even traced back to early Christian kings of Norway — who were Orthodox too as Christians in the North before the Great Schism — but that was, of course, a long time ago.  And I basically grew up Unitarian, without knowing any Christian doctrine.
It was when I was a teenager that my sister was stricken with what became a fatal illness, and, in secret, I began reading the Bible and praying.  Members of my mother's family were Christian Scientists, and I began attending the neighborhood Christian Science church, built like a classical Greek temple.  For a number of years I was a Christian Scientist, not taking medicine but relying solely on prayer.  Despite living among some very kind people in that community, various experiences ultimately led me to leave, including concerns that the church's organization was too much like a cult; that it lacked true liturgical and Trinitarian traditions; and that its doctrine of Christian healing was rather "gnostic."
During many falls along my path, I attended Norwegian Lutheran and Episcopal churches, but was indeed blessed to have a most memorable experience in visiting a Russian Orthodox cathedral in Chicago.  Walking in, I deeply felt the beauty of it, like a fabulous Faberge Easter egg; the incense and the physical involvement of people in venerating icons, standing, prostrating, chanting.  In talking with the priest and his wife, I was struck by a sense of grace.  Later, I learned that priest, Father Sergei Garklavs, was the humble keeper of the famed Tikhvin icon, attributed to St Luke the evangelist, in its exile.  A few years later, when I was in graduate school, I found and visited a local Greek Orthodox Church after becoming interested in Orthodoxy through studying about the early Church, learning a little of Orthodoxy's "prayer of the heart," and reading Dostoevsky's The Brothers Karamazov.  Again, I was drawn to the beauty of the liturgy and to the pious examples of those in its community.  I resisted, however, and, for a time, left its fellowship.  When I did return, I realized how I had been deeply hungering and thirsting for Christ and His true Church.  The priest there suggested that I visit an Orthodox monastery. 
It is said that the church is the hospital of the soul and a monastery is the intensive care unit.  I was blessed to find in that monastery a holy, spiritual father who helped me greatly in my path to Orthodoxy and baptism.  Through prayer and ascetic effort with such guidance and despite many ongoing stumbles, I unworthily experienced the life-saving grace of Christianity as being not "a religion" but the kingdom of God and a corresponding way of life, in which is found healing in the fullness of tradition, healing of the person, body and soul, in the return of the mind to the heart and ultimately, through His uncreated energies, to God.  I was subsequently blessed with meeting and marrying my wife at the very same Orthodox cathedral in Chicago where I first experienced Orthodoxy, and seeing our children baptized at Holy Cross.
The relational aspects of Orthodox worship, doctrine, and practice — bodily, interpersonally, and cosmically — are truly awesome.  We are blessed in the Church, in our parish and all our relations, to be part of God's family. 
Recently at Holy Cross's 30th anniversary, St. Tikhon's Seminary offered a book table that included numerous icons.  One that specially caught my eye was of 20th-century elders of Mount Athos; saintly men who have passed to their reward but still pray for the Church family.  One, Elder Joseph the Hesychast, is actually the spiritual grandfather of the priest who helped guide me to Orthodoxy.  Another's teachings inspired the children's book that our oldest son likes to hear selections from at bedtime: "From I-Ville to You-Ville", written by a Greek Orthodox woman based on her conversations with Elder Paisios of Athos.  I showed the icon to our son as we talked about this favorite book.
How blessed we are to be in the company, even, unworthily, in the family — of saints, and above all, of Our Lord and Savior, Jesus Christ!