by Alfred Kentigern Pavlos Siewers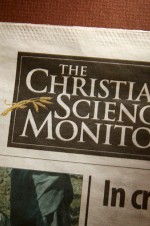 When I was covering airplane crashes and other tragedies major or minor for the Chicago Sun-Times, at the scene of such events or crimes or other suffering I would often pray and ask myself
"How can I be of service, Lord?"
I was very unworthy in my efforts. Despite a successful career as a journalist I felt spiritually unfulfilled. At the time I was a devout Christian Scientist, and basically had gone without relying on medicine (except dentistry) and only on prayer for health for about 12 years from my late teens into my 30s. Although I had not been raised a Christian Scientist, my mother had been, and relatives of hers whom I admired were Christian Scientists.
When I was in junior high and my sister became ill with what became a chronic and fatal illness, and our family was hit hard emotionally, I began to pray and to read the Bible in secret. Soon I began attending Christian Science Sunday School where I felt I had been led through prayer. I should explain that my background to this point had been lacking in any specific religious or particular Christian upbringing, despite caring and ethically minded parents. My sister and I were brought up Unitarian but in a casual way and lacking in any specific background in the Bible.
The rather generic faith of my Protestant grandparents, with whom I spent time during the difficult period of my sister's illness, helped guide me to a more religious orientation, and they had a positive view of Christian Science like many others of their Depression-era generation in Chicago. But some years later as a journalist with some success in my career I felt unsatisfied, despite being active in a local church and being married to the daughter of one of my spiritual guides in that faith. I had long hoped to work for The Christian Science Monitor, an excellently rated newspaper where I felt I could connect my work more directly with my faith. When I went to work for the Monitor, however, it was in a period of upheaval in the Christian Science Church and at the newspaper.
I ended up resigning after a few months with many editors and reporters, and returned–somewhat disillusioned with the church's authoritarian government and (to me) its secularizing orientation–to my previous position in Chicago. I should mention also that although my parents had not guided us in a strong sense of faith or the Bible, they had instilled a strong love of reading and had encouraged my interest in the writings of J.R.R. Tolkien, which in turn had helped inspire in me a love of early Welsh, Irish and Anglo-Saxon cultures.
In addition, my father's background as a science teacher and natural history museum worker had helped inspire my interest in environmental issues and nature, on which I focused in my work as a reporter. All these interests came together (or were used by the Lord) in my path to Orthodoxy during the a dark period following my brief work for the Monitor, in which despite my great sinfulness God led me to a safe harbor.
I had had what seemed like a successful career, a happy marriage and a strong faith, but these were challenged first by my experience at the Monitor (where, I should add, as with the Christian Science Church generally, there were many fine people more moral than myself!). Then after years of not having had a child, my wife and I had a child who was stillborn in the ninth month of pregnancy. We had had some minimal medical support and the stillbirth seemed an unavoidable accident medically, but I felt that my faith had failed and my wife was of course distraught. Our spiritual guide who had been praying in Christian Science for the pregnancy was her mother, a very good and dedicated person but nonetheless this created a difficult situation.
After some difficult months, I had decided to take us to a new place away from our home church and family situation, and pursue a change in my work with a leave from the newspaper and a grant to pursue graduate work in Wales, following my interest in early medieval studies. I had hoped that my wife would come with but this was difficult both financially and in terms of career for her, as she worked for her mother's business. During that year, despite visits together, we grew apart.
This was the beginning of a difficult period in which I left my faith, my marriage (we were then divorced), and I struggled as never before with pride, selfishness, sin and what seem in retrospect to be demonic self-destructive tendencies catalyzed by my willfulness and feeling of separation from faith. Often in dark moments though I would return to prayer. Eventually I left my work to go to graduate school to focus on the study of early cultures and their views of nature, something that seemed significant to me from my past work and interests, and important to me oddly in piecing my life together again.
As I did so, I became increasingly aware of Orthodox Christianity, in relation to my research in early Irish Christian culture and monasticism, and in relation to non-Western Orthodox views of nature, the Trinity and psychology that seemed to connect with early Celtic views that had fascinated me. I read Dostoevsky's The Brothers Karamazov around the same time as Kallistos Ware's The Orthodox Church and was moved by both. After having visited some other churches (including Scandinavian Lutheran and Episcopal churches, trying to retrace the older religious heritage of my family's ancestors), I began attending an Orthodox parish near the university where I was studying and teaching as a graduate student.
There, and also at a nearby Orthodox mission, I found dedicated cradle and convert Orthodox who were very welcoming and provided examples of traditional Christian lives that I really needed. I really felt in liturgy and other services, and in my reading and revived and redirected prayer life that I had found early Christianity, and what my Christian Science forebears and former fellow faithful had sought originally, Christian healing beyond Catholicism or Protestantism, though not in any New Age therapeutic sense, but in a much deeper and more fulfilling dimension of the whole person, in the traditions of the apostolic church, liturgical and Trinitarian.
In this deeper sense Metropolitan Hieretheos Vlachos has spoken of Christianity as not a religion but as a form of therapy. I should add that in one of my darkest times, before starting to attend Orthodox services regularly, I had visited a church in Chicago, Holy Trinity Cathedral, knowing nothing about Orthodoxy but loving its beautiful iconography and music.
After the service I visited, I spoke with Father Sergei Garklavs and his Matushka. They were such gracious people and that memory stayed with me when I started coming into Orthodoxy later. It reminds me even today of what a difference a personal example makes in encouraging people on the roads to Orthodoxy that we all are on, whether we know it or not. I learned later that Father Sergei had been the caretaker of the Holy Tikhvin icon during its long sojourn in exile. Later his son Paul would be my koumbaras at my Orthodox wedding to my wife Olesya, and Fr. Sergei would chant a memorial Triodion for my mother after her death.
It took me a long time to become Orthodox, and in some ways I am still on that road in terms of the great lack of my own spiritual life to this day, although I since have had the great blessing to be baptized and chrismated and then married in the Orthodox Church.
First I had begun attending the parish church near my graduate school for a while, but then stopped going, uncertain about making the commitment, willful in my errors and sin. Later when I started going again, the new priest there recommended that I visit a monastery. So I ended up meeting a hieromonk who became my spiritual father and helped to guide me into Orthodoxy along with that parish priest. I began visiting the monastery fairly frequently for guidance while also attending parish services, and helped around the monastery in providing some unskilled labor to help the fathers, which was a great blessing for me as I understand more now in retrospect.
In fact, one of the fathers, well-read in the writings of the early church, even helped me with guidance in completing my doctoral thesis, although that was the least of the help I received. It has been said that the Church is the hospital of the soul and the monastery is the intensive care unit, and this was the case for me in my long willful and sinful obstinancy. When I was baptized and chrismated, I still faced a rocky road (usually of my own making!) in my spiritual life, completing graduate school and going on the academic job market as my parents were in declining health, and facing various personal turmoils due to my own sinfulness.
But with the Lord's help, the support of church members and our priest, and the prayers and guidance of my spiritual father, I persevered in the faith and ultimately in penitence. Meanwhile I obtained a professorship at a liberal arts university where I could teach and pursue research in my fields of early Christian cultures and environmental studies.
More importantly I had the blessing of marrying a wonderful Orthodox woman in the cathedral that had been my first experience of an Orthodox church. I was able to be praying with my parents immediately prior to their passings, with them embracing the Jesus Prayer and my asking their forgiveness for all my unworthiness as a son, Lord have mercy. Since moving to another part of the country, we have become members of a mission, regularly visit a nearby monastery, have helped to establish regular OCF meetings and services at the campus where I teach, and have been blessed with two children—the first to be baptized Orthodox in my family since the Western schism centuries ago.
I also was able to obtain tenure through research that included a book focusing on early Irish Christian literary views of nature in relation to Eastern patristics, and have continued to work to bring a focus from Christianity to my work in contemporary environmental areas of concerns, also helping to organize a conference on Orthodoxy Spiritual Life and the Environment at St. Tikhon's this past spring. Most importantly I have the opportunity each day to work out my salvation in the company of an Orthodox family and Church community, through God's grace.