Christ is Risen!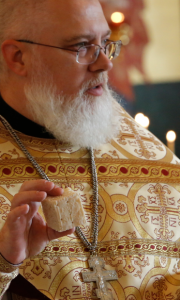 I'm Fr. John A. Peck, and I am the founder and president of Journey To Orthodoxy. With the help of Fr. Hans Jacobse, director of the American Orthodox Institute, I started JTO in May of 2010. The response has, frankly, been overwhelming.
Like many of you, I did not grow up in the Orthodox faith. Like many of you, I had to find it, and it wasn't easy to find!
It seemed for us, as it seems for many of you, to be a lonely journey. It is not. You will meet many others on the same path, from every conceivable background. This is what made our journey so much happier. This is what Journey To Orthodoxy is all about.
This network, which we call the "Welcome Home" Network, has been designed specifically to let pilgrims like you know that you're not alone. To give you the chance to experience the value of personal connection during a time of searching and prayer. You'll have the chance to read the testimonies of those who have been where you are, and to connect with flesh and blood Orthodox Christians, who have already made the journey.
This is especially true for those of you who are clergy. We have special contacts for you, and a special section exclusively for recounting the path to Orthodoxy by non-Orthodox clergy.  Again, you're not alone, and we'll be with you every step of the way. Our network of clergy contacts includes men from every background and discipline. Relax, you're in good company.
You're on a well worn path, the journey is exciting, and the destination is glorious.
Welcome home, friend.
If you'd like to contact me, use our handy Contact Form here.
If you want to support JTO and become a member for a meager $2 per month, go here.
If you're new, and you are ready to begin your journey, click the button below.